Consumer Alert

**NEW** Fraudulent emails concerning consumer complaints are being distributed to banks using the Federal Reserve Consumer Help Center's (FRCH) information (Example shown below). Do not click on any links or open attachments in the email. Please note that FRCH does not contact banks directly regarding consumer complaints.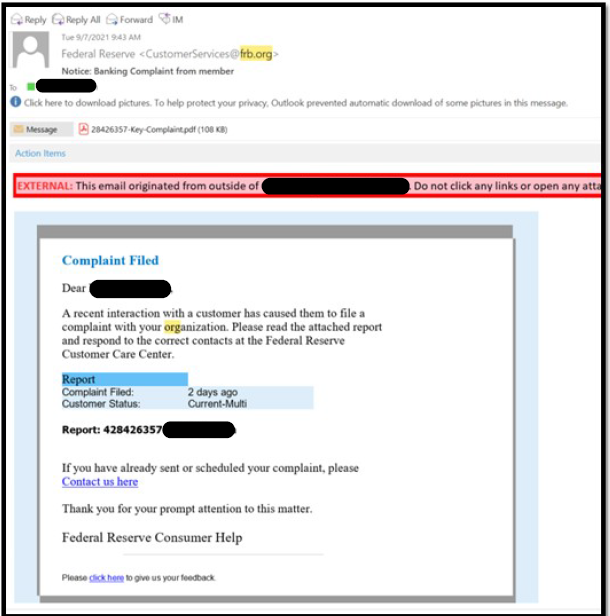 Are you having difficulty making mortgage payments due to COVID-19 and have questions about forbearance? Maybe you're already in forbearance and need help with next steps. This video from the Consumer Financial Protection Bureau has important facts about requesting mortgage forbearance. You can also go here to learn what to expect when forbearance ends. See FAQs on the COVID-19 Resources page for additional details.
Frauds and scams are on the rise and it's important to learn how to protect yourself from them. The Federal Reserve will never contact you via unsolicited calls or emails asking for money or personal information. For more details on common scams using the Federal Reserve's name, please visit the Board of Governor's website. You may also visit the Frauds and Scams section of this website for tips on recognizing and avoiding other types of scams.
File A Complaint
Not sure where to start? Learn about how to file a complaint about a bank.
Find An Answer
Do you have a specific question? Browse these categories to find answers to frequently asked questions.
Contact Us
Contact a Federal Reserve customer service representative today.
Federal Reserve Consumer Help
Fax: (877) 888-2520
Phone: (888) 851-1920
TTY: (800) 877-8339 (via a relay service)
Mail: PO Box 1200
Minneapolis, MN 55480